The starting five at the beginning of the season included senior Point Guard Russ Pancio, playing his 3rd year as a starter. As a junior, Russ scored 222 points (11.7 per game) for the 73-74 team.
Also at guard was fellow senior Al Barber, the long-haired wonder who scored 74 points the previous season as a starter. Junior Jeff Nix was the starting center, having scored 85 points as a sophomore, complementing superstar bigman Keith McDivitt.
These 3 were joined by twins Tommy and Timmy Yanetsko. Tom was a key sophomore forward on the varsity team of 73-74, scoring 103 points during the 16-3 campaign, grabbing many rebounds and steals with his quickness and extraordinary leaping ability.
Portville defeated Ellicottville in game 1, 71-48, using Man-Press and Point-Press on defense in the first half, and some Delay-Press in the 2nd. All of the players got on the court, and coming off the bench were C Bretzin, F Hunt, F Henneman, F Hinman, G Campbell, F Larson, F Sweigert, and G Caya.
Barber led the team with 16 points, and nine Panthers scored with a balanced attack. Legendary officials Tony Wilson and Pat Carroll refereed the game at Portville.

In game 2, PCS beat Cattaraugus with everyone getting in the game and 10 guys scoring. Tommy led the way with 16 points and Pancio had 15.
They were up by 20 at half-time, and De Land once again employed his crafty plays that were meticulously carried out by his players. The head coach often called for a 4-corner offense with Nix roving the middle, that required patience and precision passing.
In those days, teachers like Marv Smith, Jim Piatt, Jim Kennedy, Ken Woodruff, and Dennis Dorman worked the scoreboard, the clock, and the scorebook.
The Panthers played their 3rd straight home game against Coudersport, winning 77-56, as Barber and Larson both scored 19.
Ellicottville gave PCS a much better game on their home court on December 17, as the Panthers barely won 52-51, after trailing most of the game. The Eagles only played 5 guys, while De Land brought in just 2 subs for game 4.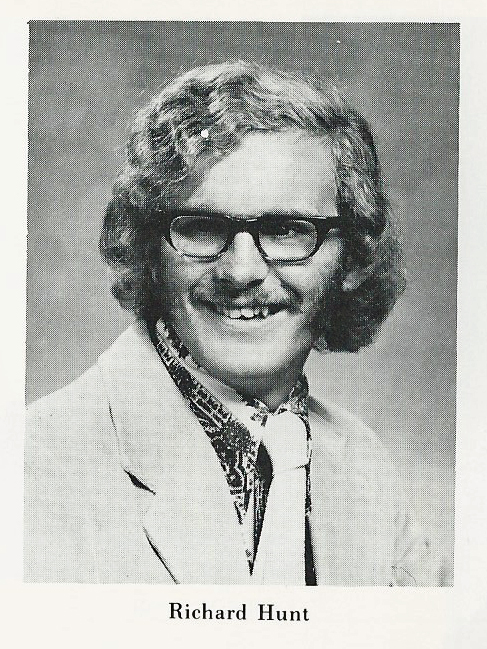 PCS beat Coudersport 77-42 in game 5, as Nix scored 23, making 9 of 10 foul shots. Once again everyone played, and the leading scorer from Coudy was a dude named J. Rigas, of that family fame.
The undefeated 5-0 Panthers were upset by Bolivar in the first round of the Otto-Eldred Tournament, 57-52 on December 27th. The Bulldogs were coached by Bob Dunsmore, who was also Bob Connell's rival in football during the 60s and 70s. Tom Wight threw in 22 points, while Bob Torrey (who played at Penn State and in the NFL) scored 7 and pulled down many rebounds.
Portville went on to beat O-E the next night, 62-47, and everyone contributed again, led by Pancio, Nix, and the Yanetskos. Kenny Woodruff kept the scorebook for PCS.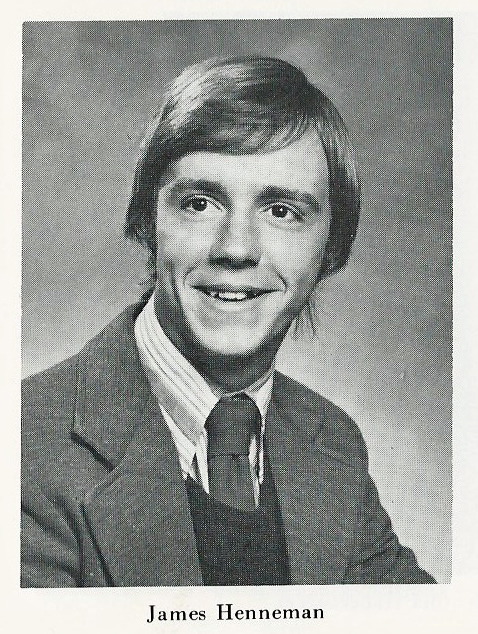 The very first Cattaraugus County IAABO Tournament was held on January 2, 1975 at St. Bonaventure when Portville played Olean at St. Bonaventure. Equipped with a much taller squad, the Huskies won by 13, led by seniors John Elmore, Ron Spears, Dick Young, and Steve Hannon.
Jeff Anastasia was the lone sophomore on the varsity unit (later becoming the most successful Big 30 high school hoops coach in history). Nix scored 16 points against all of Olean's bigs, and made the tourney all-star team.
In the consolation game, Portville crushed Limestone 74-49, behind Pancio's 20 points, as every member got to see playing time on the court where Bona legends like Bob Lanier, Matt Gant, and Essie Hollis won many-a-Division I game during that era.
Again, the scorebooks were kept by PCS math teacher Ken Woodruff, who is currently a veteran IAABO official and also runs the scoreboard at Bona games.

PCS doubled up Cattaraugus in game 10, 68-34, as Pancio (19) and Nix (18) led the offense. Sharp-shooter Larson scored 11, while Tim Yanetsko hit 5 long-range shots.
There was no 3-pointer in that era, and one can only imagine how many more points that would have meant to 70s bombers like Timmy Y, Scott Nix, and Tim Bush. This was also the first game that sophomore Ray Auman played for the varsity squad.
On January 10, PCS won a tough game at Holland, 66-57, as both teams utilized just 6 players each. Portville sunk 8 of 11 free throws in the final quarter to seal the victory. Nix scored 21, Pancio 18, and Larson came off the bench with 8 points.
Tommy and Jeff dominated the boards, as they did almost every game. By this time in the season, Pancio was averaging 15 points per game and led the team in assists with his smooth quarterbacking. Nix also averaged 15 a game.

Back at home for game 12, Portville beat a strong Franklinville team 86-74. The northern Panthers rallied behind Big 30 scoring leader Kevin Hardy...and the Harrington brothers. Pancio ran the show with 10 field goals and 23 points. Juniors Caya, Campbell, and Bretzin came off the pine to hit shots in the final quarter.
Game 13 came against Portville's biggest rival Allegany. Portville was up 53-43 after 3 quarters, but Allegany raced back with 30 points in the 4th. The Panthers squeaked out a 79-77 win, as Pancio hit a personal best of 28 points.
Russ and Timmy Y each hit 4 crucial FTs in the final period to beat the Blue Devils, captained by Phearsdorf's 27 points (12 in the 4th stanza).
Portville knocked off Holland again on January 31 with Pancio hitting 12 shots from all over the court. As in previous games, the opponents began to foul in the waning minutes, and the Yanetskos sank several free throws to keep the game out of reach.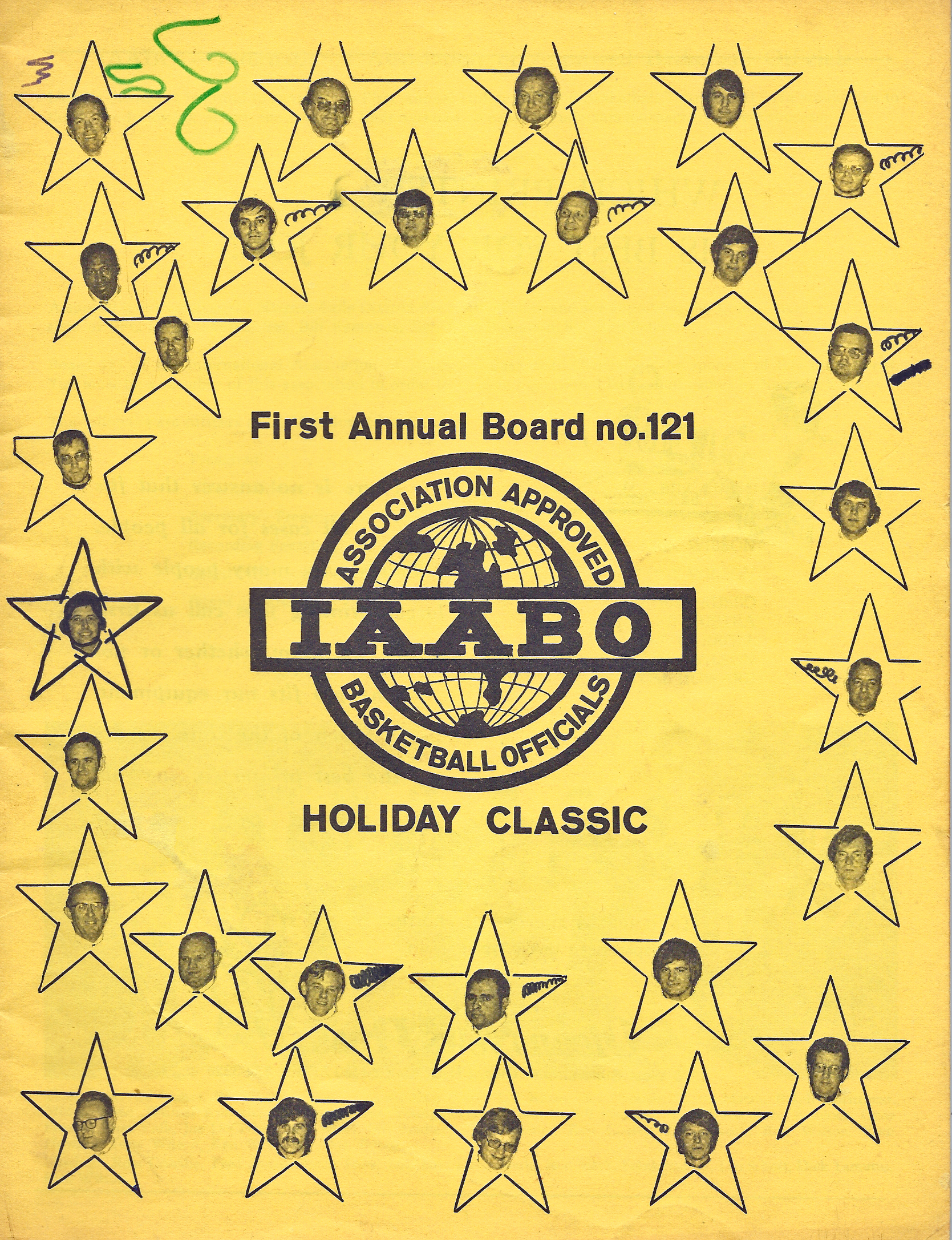 The highly-anticipated game 15 at Franklinville witnessed both coaches using all of their players, and Portville blew them out of the gym, 94-60. PCS led 56-28 at the half, and their final point total was the most ever scored in a game, at that time in Portville history.
It was also the first and only time that the Panthers had 3 players score 20 or more points in one game: Tom Yanetsko 23, Barber 22, and Pancio 21. They also limited Hardy to 16.
After a week off, they played Class B Salamanca at home and were knocked back into reality with a huge loss, 80-58. Tom Yanetsko missed the game due to illness, while the Warriors were led by Larry Whitcomb (27 points) and Brad Weitzel (18).
Missing Yanetsko again, PCS got beat at Allegany (coached by L. DiSorbo) the next game, 69-65, before a packed gymnasium. Nix and Pancio scored 19 and 18 respectively. Fred Caya came off the bench to score 8, but his spark was not enough to overcome the onslaught from John Potter (25) and Jim Cooney (16).
At this juncture, Portville was 13-4 and tied with the Blue Devils in their Class CC league. Pine Valley, Maple Grove, and Frewsburg were other CC teams headed for the playoffs.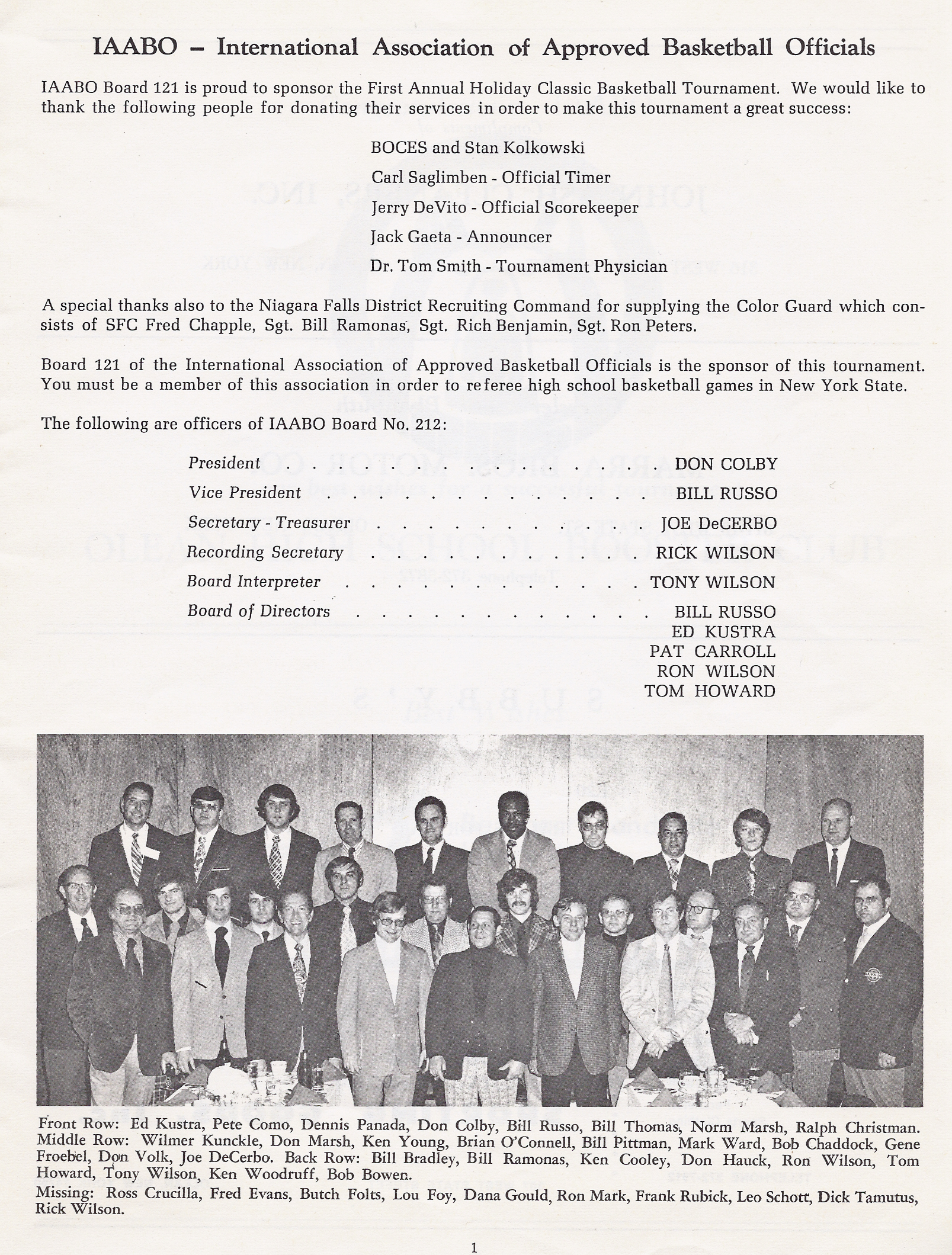 The 18th and last game of the regular season pitted the Panthers at Salamanca, who had a 7-9 record in Class B at the time and were a much bigger school, while PCS was 13-4. Salamanca won win authority behind Pete Gengo, Ron Dolecki, and Coach R. Crandall, 74-65, even though PCS was up at half-time.
Nix scored 26, making 73% of his shots, while Pancio kept up his double-double pace in points and assists.
Having lost their final 3 games, De Land and his Panthers dug deep to figure out how to approach the playoffs. Could they come up with a formula to overcome their current state of depression?



Game 3 at Portville
Game 12 Portville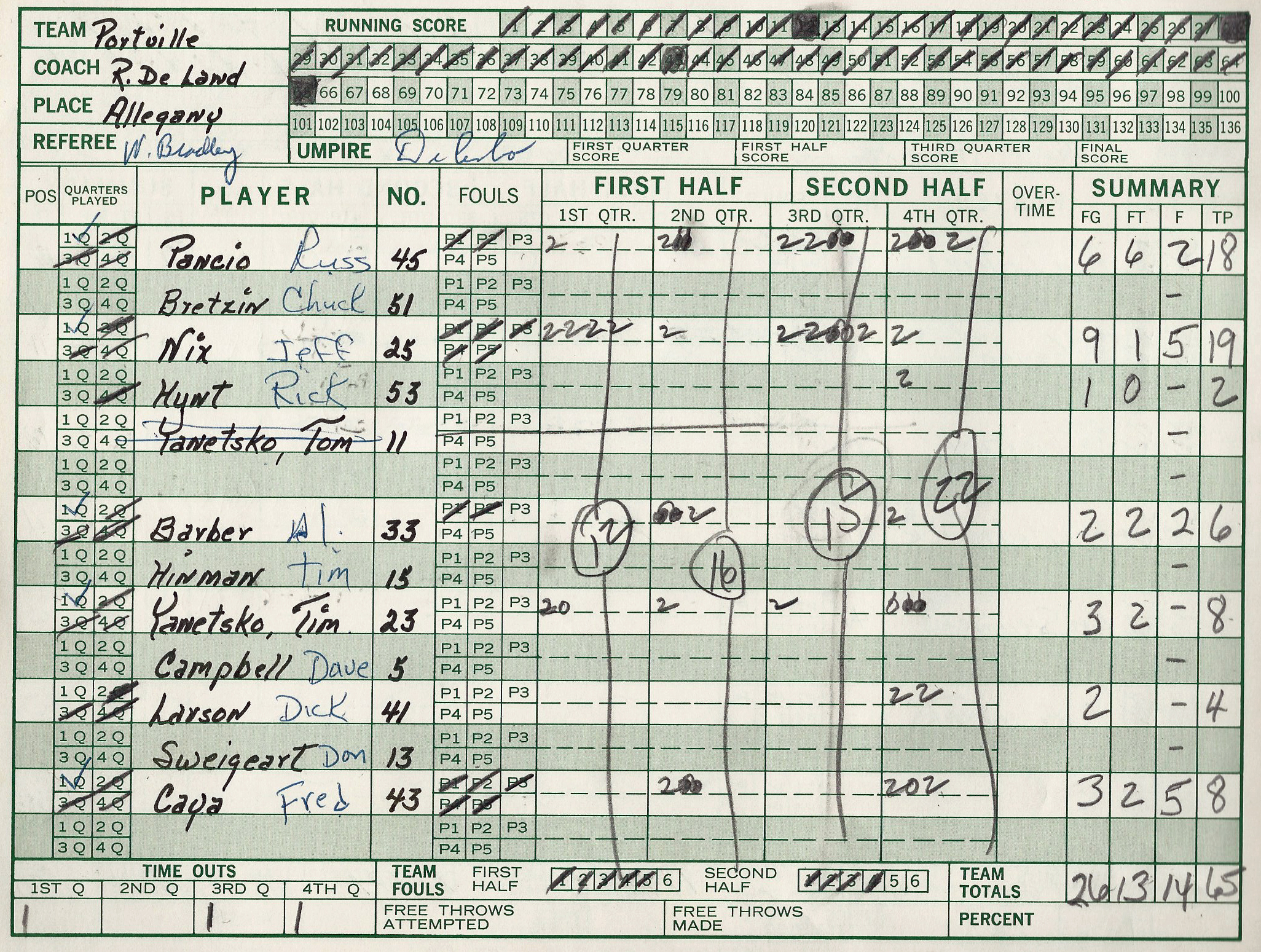 Game 17 Portville
Quotes from Fans:
"I remember the community and school came alive. The gym was packed. The after-parties at Raseys"- Debbie.
I remember cheering our hearts out...the gym being sooooo packed full, getting everyone screaming 'DEFENSE, DEFENSE'"-Lucinda.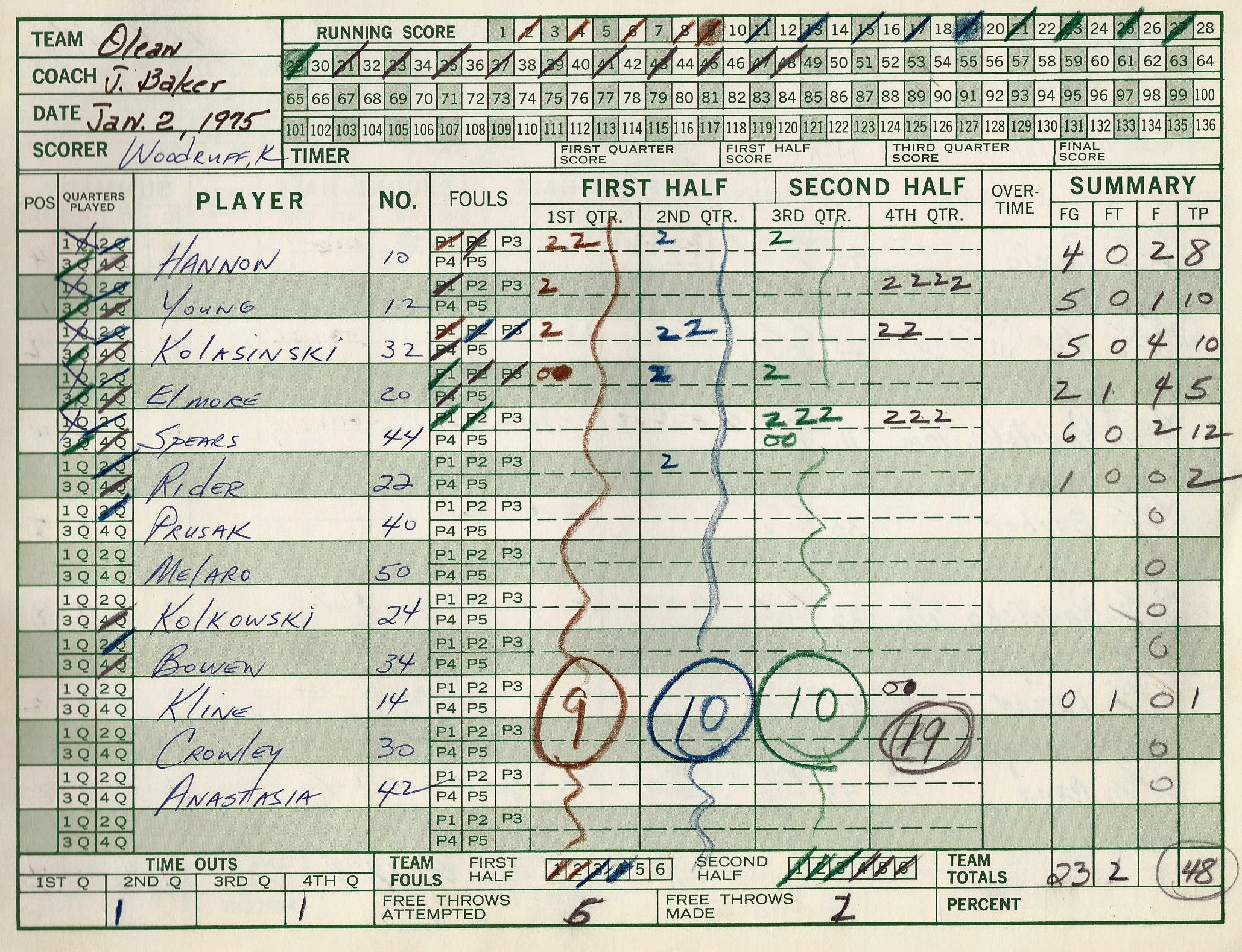 Game 8 Olean (at St. Bonas)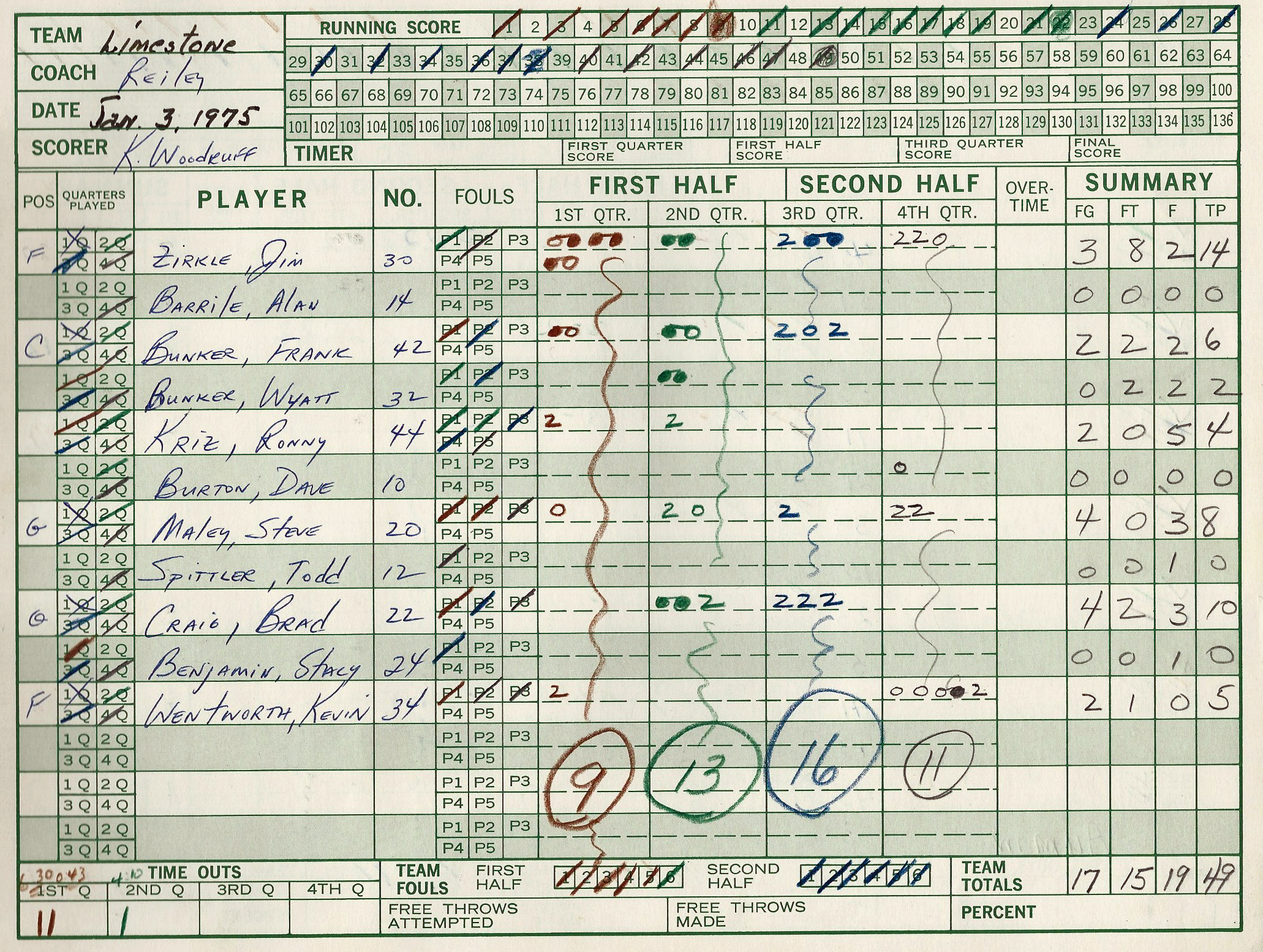 Game 9 Limestone (at St. Bonas)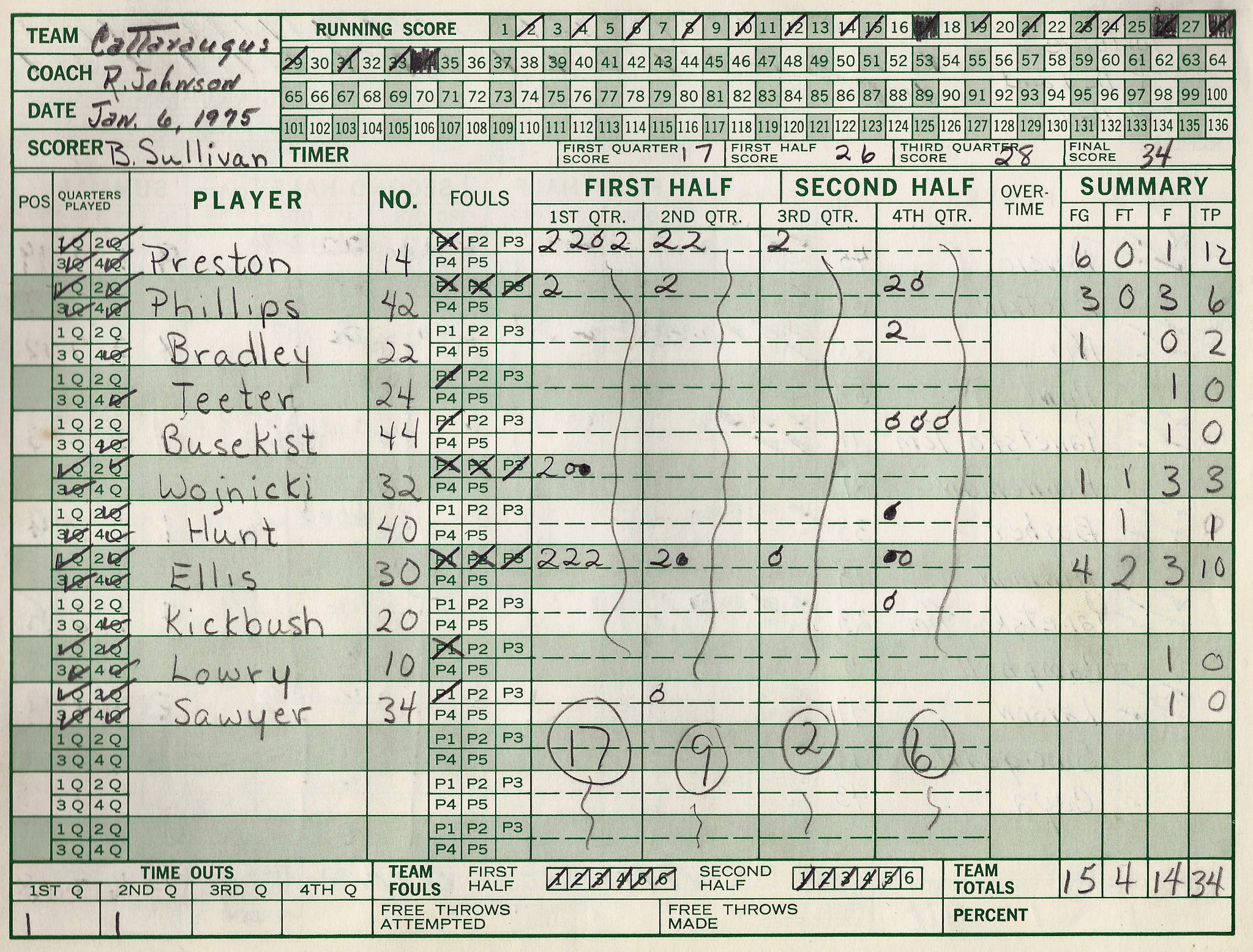 Game 10 Cattaraugus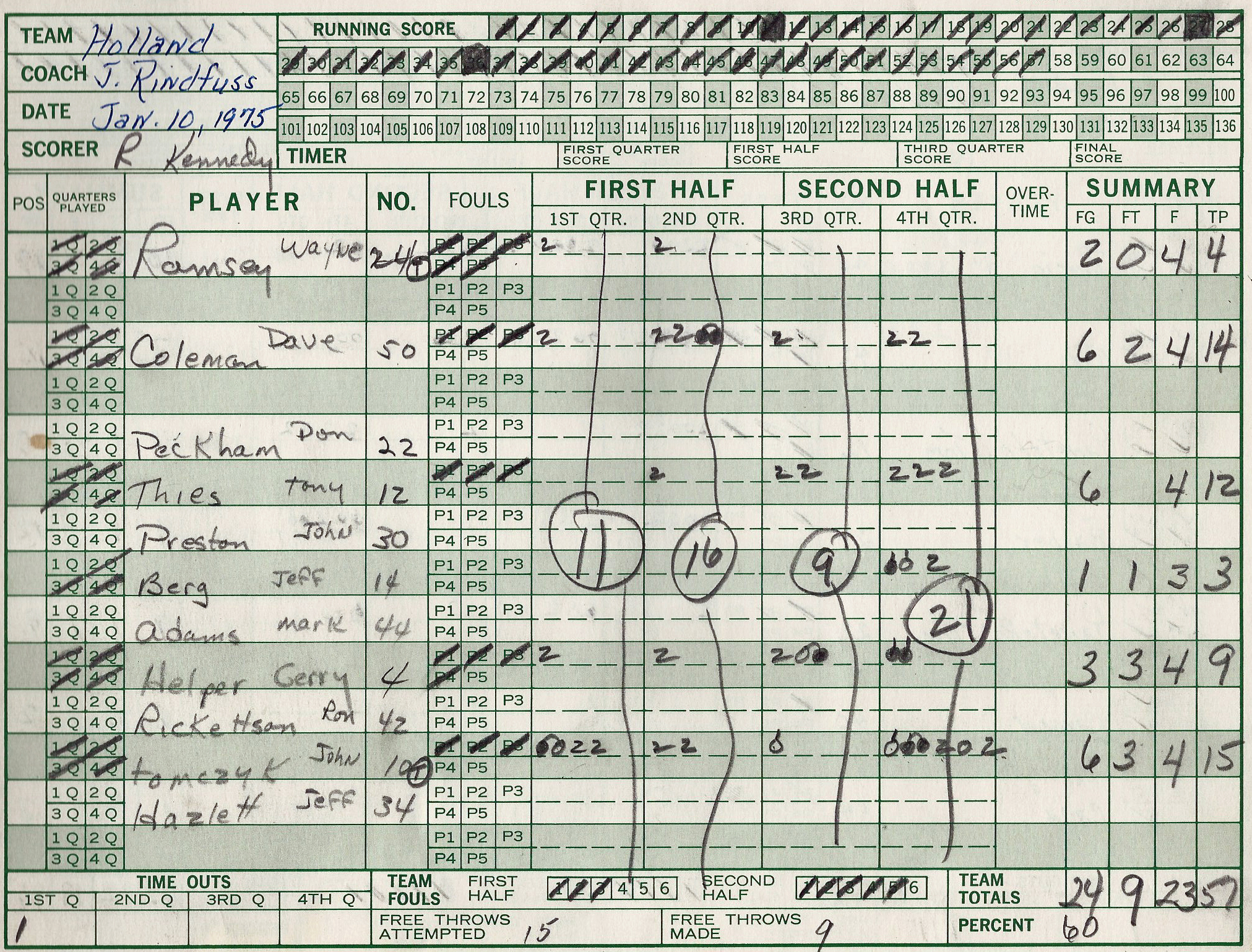 Game 11 at Holland
Game 12 Franklinville