Warriors Escape From Panthers' Grip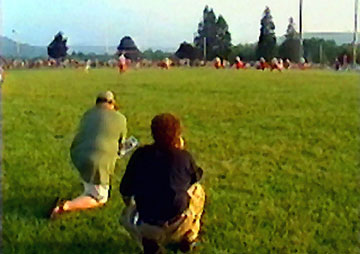 The Connell brothers had the best seats in the house.
PORTVILLE, NY
Down 3-0 until the very last minute of the battle, Salamanca defeated Portville 13-3 in their 2nd Annual Alumni Football Game.
A crowd of 1,232 folks witnessed a hard-hitting, defensive struggle that saw the Panthers stop the Warriors in the red zone four times before giving up RB Darren Ross' winning TD.
The June 4th, 2005 contest was graced with sunny skies and a muggy temperature that had all of the players going for the water bottles. Otherwise, the atmosphere was beautiful for the fans who came to watch some big-time football.
Both defenses were outstanding and the penalties were minimal, keeping the spectators on the edge of their seats for most of the game. The intense, yet respectful rivalry between the two towns along the Allegheny River manifested itself in great plays from many players.
Veteran Danny Early quarterbacked the visitors once again, hitting WR Chad Bartoszek with several key passes. Rookie QB Kyle Witherell boldly guided Portville throughout the entire game, but the home team could only manage a field goal by 2003 grad Chris Payne in the 3rd quarter, which started the scoring.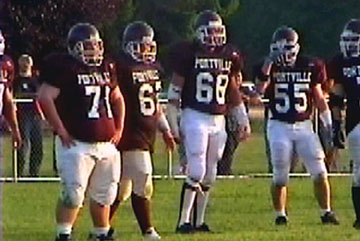 The Portville Defensive Line played admirably.
Salamanca's Derrick Murphy had couple of good punt returns to highlight the game, but DE Bartoszek snagged an interception for a trip to the house just a few ticks after the winning touchdown, stunning everyone but him.
"Chad's a great guy," assessed Portville Coach Gary Swetland after the gridiron war was all over. "He would have been the MVP if we had one".
Salamanca kept Portville RB Adam Hellwig in check for most of the game, while "Stevie Blaske had some nice runs," noted the Portville coaches. "That kid was fast," concluded former Panther stand-out Boomer Connell.
FB Jake Haught had to contend with TE DJ Whitmore, the 1987 Salamanca grad who started the alumni project and dominated last year's 28-6 victory. DJ was all over the field again, but "Portville did a much better job in 2005 of handling the big boys overall", commented long-time Panther fan, Big Jim Hawbaker.
George Whitcher came back to man the helm.
Player-coach Larry Welty pulled a Willis Reed and played hearts out, even though he did not practice for 3 weeks.
"The fans were entertained with a great football game. Those Portville players did a grand job for 59 minutes, and we're all proud of what each one did out on that field, It was a great night in the town, but I wish we coulda won 'er," said Big Jim in conclusion.