Meeting #3 Attendance
1 Shane Studley
2 Gary Hendryx
3 Dana Cornell
4 Ryan Hunt
5 Steve Blaske
11 Benny Reynolds
12 TJ Latten
18 Jeff Borer
25 Dan Bailey
26 John DeBarbieri
29 Jim Childs
40 Dave Renaud
47 Drew Keim
49 Andy Studley
56 Brian Jones
66 Tony Card
67 Scott Graham
68 Jon Darrin
72 Jess McFall
84 Chris Yehl
92 Tim Jordan
Gary Swetland
Jimmy Reynolds



PCS WEIGHT ROOM
6-8 pm MWF
Feb. 13th Meeting
Coach Swetland ran the show in the classroom. He noted that the school is lining up behind this event.
We will need the help of the Sports Boosters, Music department, and many other folks in town.
Players were encouraged to get in football shape and play Sunday Pick-Up.
All players are to call or contact the Sports Locker In Olean with their Jersey number and pants order ASAP.
June 4 is looking like the final date of the game.
Next meeting is Sunday, April 4 in the classroom.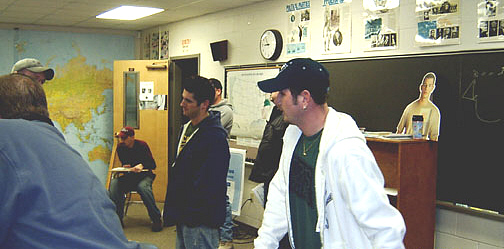 We are hoping for:
Bill Torrey
06 Ryan Carr
19 Shannon Knight
39 Jake Haught
52 Bruce Holcomb
62 Toby Miller
77 Rick Hernandez
82 Corey Wesley
Matt Mason
Matt Swetland
Ty Warner
Chris Gagliardo
Josh Auman
Jude Auman
Matt D
Scott F