"Every mountain man is a hunter. But not every hunter is a mountain man."
The true mountain man heads for the wilderness all year round.
The true mountain man does it all.
Most mountain men start young, but a few catch on at a different age. They learn to how to hunt, fish, trap, track, live off the land, and build shelters. Mountain men camp out under the stars during big game season, go shed huntin', follow old Indian trails, ice fish on ponds, and do their part to preserve the natural wilderness.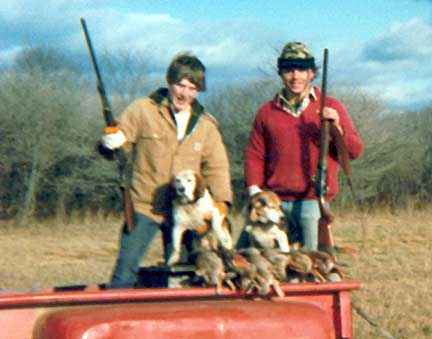 Mountain men of the Twin Tiers are schooled in the arts and science of hunting crows, chipmunk, squirrel, rabbit, possum, woodchuck, and coon...with slingshots, BB guns, Twenty-twos, beagles, and hounds.
A true mountain man learns how to trap muskrat, possum, mink, red fox, grey fox, beaver, and other mammals.
All young mountain men aim to get that first deer of their life, particularly a buck. All mountain men hunt buck with bows and shotguns. Many also use rifles, as allowed in Pennsylvania.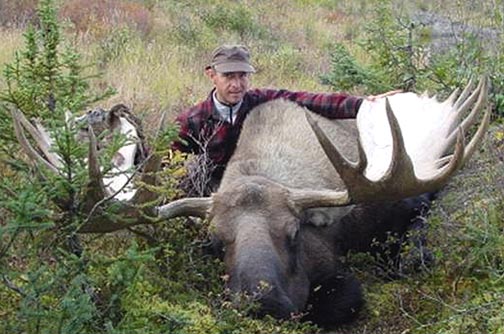 Mountain men will bag bear and moose from time to time, but most concentrate on getting the biggest male white-tail possible. They wait for big weight and many points.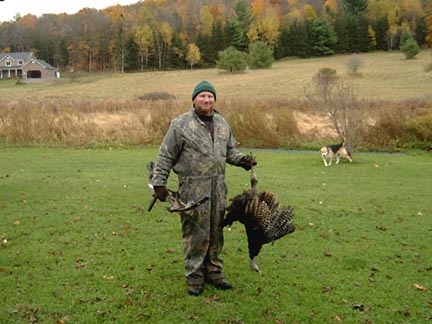 Mountain men hunt turkey...with bow and gun...Spring and Autumn.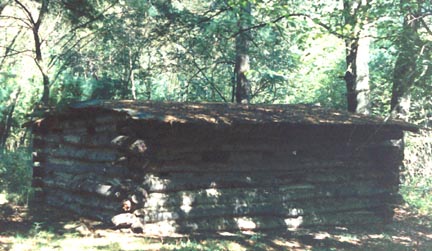 Every decade, give or take a few years, a mountain man will build himself a new huntin' shelter with his own bare hands, an axe, and a few huntin' buddies.
Big Jim was born in the year 1935 as James Thaddeus Hawbaker, 8th child of Jedediah Thomas and Ruth Lila Hawbaker, right in the middle of the Great Depression.
The elder James was an accomplished mountain man, who learned the lifestyle from his dad, and so on...all the way back to their ancestors from the German Alps, who migrated to America during the Colonial Period.
Early American mountain men got much of their wisdom from the Native Indians like the Iroquois. And like those mountain men of old, Big Jim enjoys passing on the hunting traditions learned in the wild.
Over the past 50 years, as the rapid encroachment of civilization has pushed mountain men into near extinction around these parts and others, Big Jim and his staff of men and women at the Huntin' Lodge have helped preserve many of the old traditions.
As well, Big Jim and his partners have banned together to preserve thousands of wilderness acres for mountain man hunting and camping.
Huntin' Camps and Fishing Expeditions for kids and adults run throughout the year, as Big Jim and his experts lend their time and knowledge in an exciting way.
Headquarters used to be called Big Jim's Backwoods Huntin' Lodge, but the named got changed to Big Jim Hawbaker's Huntin' Lodge for this website, for some reason.
Anyway, come back to visit for occasionally up-dated info, pictures, and other nuggets from the mountain man culture.